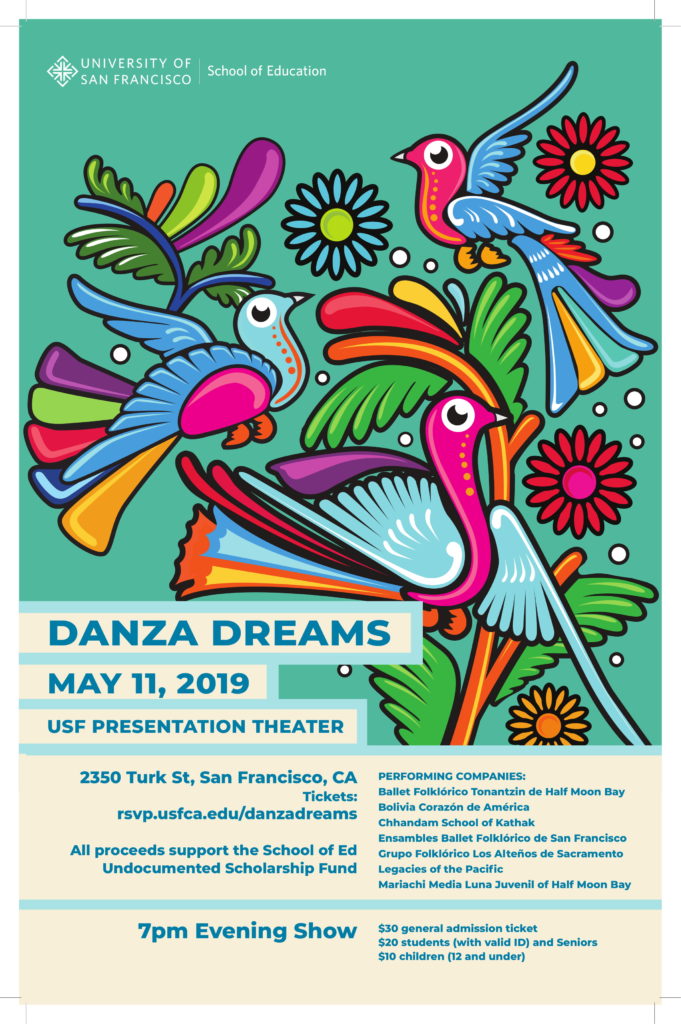 The University of San Francisco presents Danza Dreams 2019, a showcase of local talent, passion, folklore, and advocacy for our undocumented student community. The 2019 Danza Dreams showcase is a collective effort by local faculty, staff, and students from USF, the SF community, and surrounding areas. Join us for performances that capture the spirit of our immigrant communities and tell a visual story of art and culture through music, song, and dance.
Danza Dreams 2019 will feature performances by:
Ballet Folklórico Tonantzin de Half Moon Bay
Bolivia Corazón de América
Chhandam School of Kathak
Ensambles Ballet Folklórico de San Francisco
Grupo Folklórico Los Alteños de Sacramento
Legacies of the Pacific
Mariachi Media Luna Juvenil de Half Moon Bay
100% of all proceeds from the show will benefit the undocumented scholarship fund at USF. This scholarship is designed to support the success of undocumented students within the School of Education. Join us as we dance, sing, and story-share about our stories of migration and culture.
Ticket Prices:
$30 General Admission
$20 Students (with valid ID) and Seniors
$10 Children 3-12 years of age
(children under 3 years of age are free and do not require a ticket)