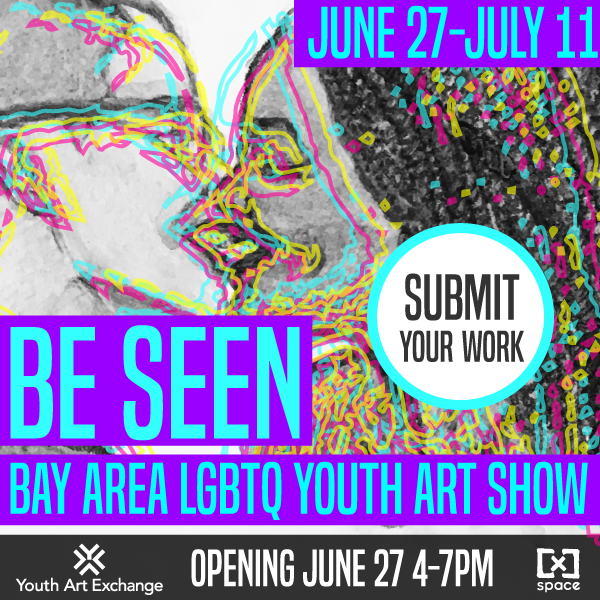 Youth Art Exchange (YAX) is looking for submissions of art made by Bay Area LGBTQ youth! YAX is celebrating LGBTQ Pride withBe Seen: Bay Area LGBTQ Youth Art Show at [x]space arts hub in the Excelsior in June. Be Seen will be a space for LGBTQ-identifying youth under 25 years old to show their artwork and be seen, appreciated, and celebrated. It is a space especially for LGBTQ youth whose experiences and identities are marginalized and underrepresented, such as youth of color, girls, first generation youth, low-income youth, and youth experiencing homelessness.

How to submit:
If you're interested in showing your work (in any medium – visual, audio, video, 3D, performance, written, etc), email Chantelle at chantelle@youthartexchange.org.
Artwork must be submitted at [x]space (5137 Mission St) by June 20.
Youth can sell their work and receive 80% (YAX receives 20%) so we encourage youth to price accordingly.
Three youth whose work is exceptional will receive a $50 gift card to Blick art supplies!
Opening: Thursday, June 27, 4-7pm
Exhibit: June 27-July 11
Youth Art Exchange's [x]space arts hub
5137 Mission Street
San Francisco, CA 94112 More information on Youth Art Exchange website
Share Be Seen: Bay Area LGBTQ Youth Art Show on Facebook, Eventbrite, Instagram, & Twitter.