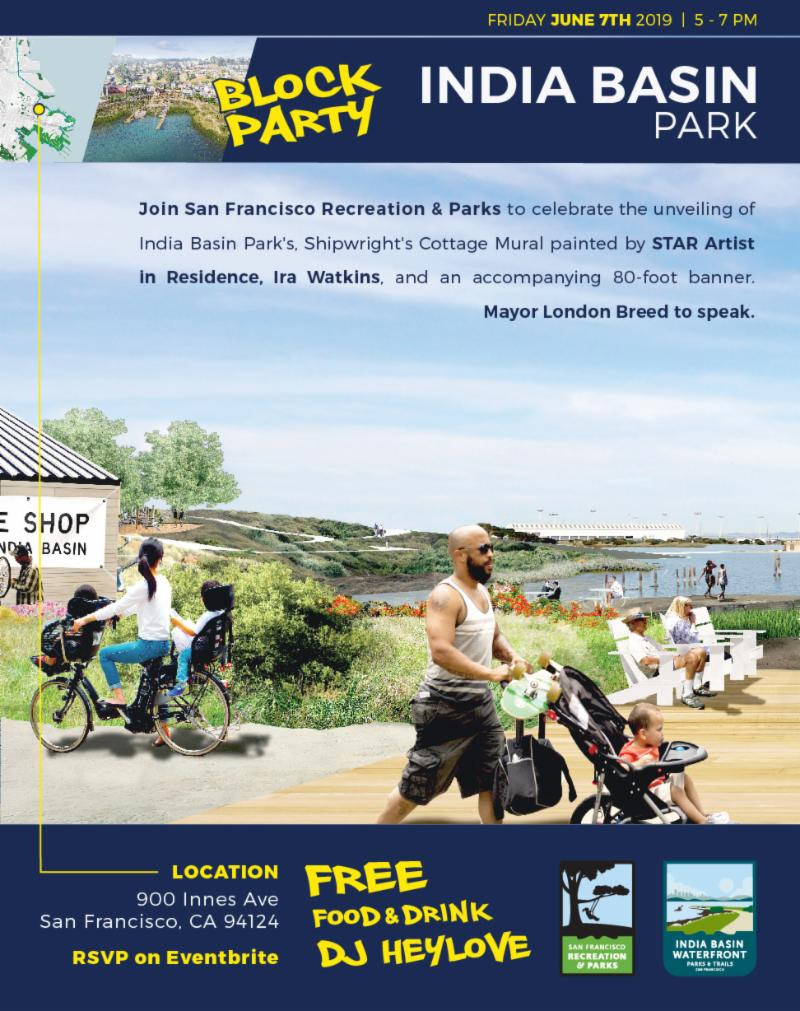 India Basin Block Party and Mural Unveiling on June 7
Join us for the unveiling of a mural by artist-in-residence Ira Watkins, along with an accompanying 80-foot banner at Shipwright's Cottage (900 Innes Avenue). This event will take place on Friday, June 7 from 5 to 7 p.m. and will feature free food, drink, music and more! Join community stakeholders, residents and business owners to celebrate this art installation and the upcoming India Basin park project. For more information, click here. 
Harvey Milk Day and Artist Extension
May 22, we remember Harvey Milk, the late San Francisco politician who gave his life in service to this city and fighting for civil rights. In honor of this day and the upcoming 50th anniversary of the Stonewall riots, the Harvey Milk Photo Center is extending its deadline to May 23 for artists' submissions for its upcoming exhibit that will celebrate the LGBTQ community. Showcase your talent with your best contemporary artwork or submit historical images, documents or artworks from the 1970s that reflect the lives and events of the LGBTQ community, including of Harvey Milk himself. To submit and for more information, click here.
Surrealistic Summer Solstice Jam 3 and Psychedelic Photosynthesis on June 19
Join us for the 3rd annual outtasight, flower-powered night under the stars as we kick off summer with the Psychedelic Photosynthesis and Surrealistic Summer Solstice Jam. Spread out a blanket for an amazing night of free, live music and psychedelic visuals in San Francisco's Golden Gate Park at the iconic Conservatory of Flowers on Wednesday, June 19. The concert, featuring the iconic songs of 1969 performed by legendary artists alongside bright new talents in the Bay Area music scene, will run from 6 to 10 p.m. The Conservatory's light show, Photosynthesis, will begin at approximately 9:15 p.m. transforming the building into a canvas of colorful light art. For more information, click here.