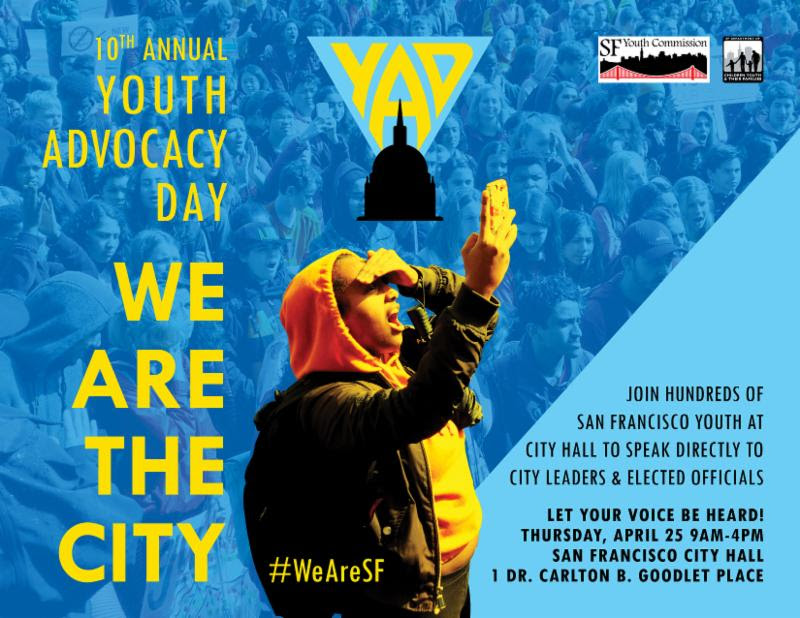 Youth Advocacy Day (YAD) is an all-day event committed to youth empowerment and civic engagement for San Francisco's youth. It is a day in which high school students have the opportunity to meet with city leaders and public officials to share their thoughts, concerns, and questions about issues they care about as young people. Youth Advocacy Day is a unique educational experience for youth to take ownership over their civic lives.
Thursday, April 25, 2019
8:30 AM – 4:00 PM
San Francisco City Hall
This year, we will honor the legacy of SF Public Defender Jeff Adachi who was an avid participant of Youth Advocacy Day and will be remembered as a champion of youth and fearless advocate of justice.
Start the day with a kick-off welcome rally at the steps of City Hall.
Enjoy an Open House Meet and Greet breakfast with theBoard of Supervisors in their district offices.
Meet people who make the City run: City and County workers who are born and raised in San Francisco, learn about their journey and their commitment to public service.
A special keynote address from Mayor London N. Breed and commemorative photo in the historic City Hall Rotunda.
Enjoy an outdoor lunch in Civic Center Plaza.
Participants speak directly to the people who run the City: the officials who make the decisions that affect your lives. Six panels will bring together decision-makers in charge of different issues area facing San Francisco today, and youth and young people will make their voices heard.
Know Justice Know Peace: Policy, Systems and the People
Community Safety: Policing and the Public
Green and Clean: Access to Livable City, Public Space, and Quality Environment
Youth in Action: Leadership, Community Engagement, and Civic Identity
Whose Home? Housing and Supportive Services
Learn + Earn: Equitable Education and Employment Opportunities
Participants will walk away with YAD swag, create art, and celebrate with us at the YAD After Party with snacks and music!