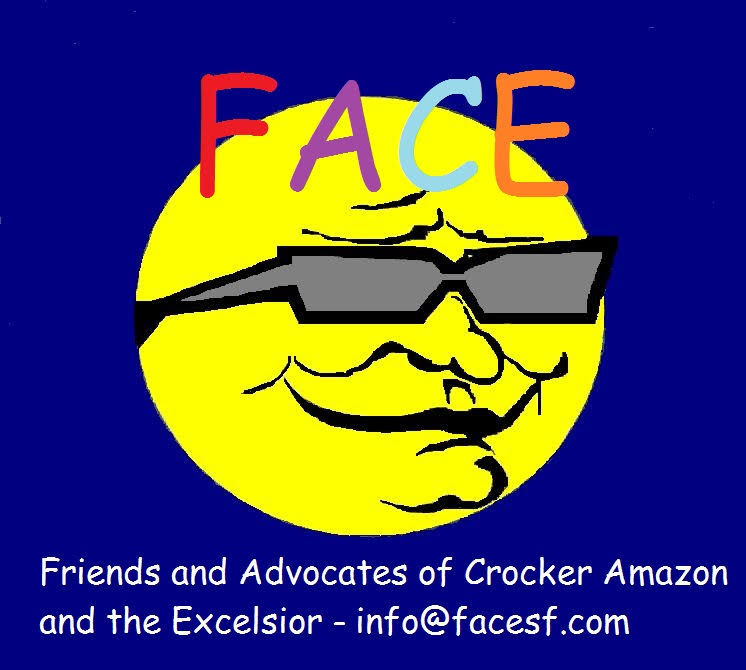 Full Working Group Meeting of Excelsior Outer Mission Strategy, Thursday March 15th 5:30PM
The Excelsior & Outer Mission Neighborhood Strategy is an ongoing process to identify the future vision for the Excelsior & Outer Mission commercial corridor and surrounding neighborhoods.  The Strategy will also include goals and strategies that can help achieve those goals. The public is welcome and invited to participate.Ongoing meeting to prioritize strategies to improve the Excelsior and Outer Mission District continue with the full Working Group meeting on Thursday, March 15, 2018 from 5:30 – 7:30 pm at 5655 Mission Street, Calvary Baptist Church.
Parking is available in the church parking lot.  Accessible by the Muni 14 and 14R.
——————————————————————————
FREE Thursday Bingo Night Returns March 15th – Prizes, Snacks & Raffle – 6:15-8:15 PM Crocker Amazon Clubhouse
Starting again Thursday, March 15th the Crocker Amazon Advisory Committee and Crocker Amazon Playground's Recreation Manager Gerald Reader, are bringing back a community-requested program: 2 hours of fun FREE Bingo, free snacks, prizes and a raffle, every 3rd Thursday evening each month. Additional paper games cards & daubers will be available for sale.
The Crocker Amazon Advisory Committee, a group of neighbors who for more than 7 years have been advocating and holding monthly workdays for Crocker Amazon Playground and Park, are working with Recreation Manager Gerald Reader to re-energize the clubhouse again and offer free evening programs of broad appeal.
Some program ideas include a series of "Masters" programs at the Crocker Amazon Clubhouse with a "Fix-it" night, cooking and lifestyle demonstrations, crafts night, board games night and more. If you have ideas and requests for special programs appealing to neighbors and friends send them to Gerald at Gerald.reader@sfgov.org.
——————————————————————————
Geneva Car Barn and Powerhouse Groundbreaking – Monday March 19th 11AM
Things are moving ahead at the Geneva Car Barn and Powerhouse!
On Monday, March 19th at 11 AM, there will be an official groundbreaking ceremony to begin work to transform the historic Powerhouse into a center for art and art performances.
To kick off this long-anticipated transformation RPD General Manager Ginsburg, Commission President Buell, Commission Vice President Low, and Supervisor Ahsha Safai will note this community focused milestone with the golden shovel groundbreaking and photoshoot.
Many community members have supported the Geneva Car Barn and Powerhouse project and invested in the revitalization of this space.
March Police Captain's Meeting – Tuesday March 20th – 7 PM – Ingleside Station Community Room
The next Ingleside Police Department Captain's Community meeting will be held Tuesday March 20th at 7 PM at the Ingleside Police Community Room.
There will be light refreshments available to those who come to the meeting.  All are welcome to attend.
——————————————————————————
Mobile Rec at Excelsior Playground – Saturday March 17th 11AM-2PM FREE
RPD would like to welcome you to our Mobile Rec Event Saturday, March 17th from 11:00am – 2:00pm at Excelsior Playground. Fun sport include the Climbing Wall, Disc Golf, Skateboards, BMX Bikes & Razor Scooters on site. RPD staff will provide safety equipment. Mobile Recreation is a free event. Get out and play!
——————————————————————————
Free Healthy Parks, Healthy People – McLaren – 10AM Saturday, March 17th
The Healthy Parks, Healthy People Bay Area, is a free monthly healthy walk in several of our city's parks. It is a collaborative effort between 25 local agencies, SF Rec and Park as part of its Healthy Parks Healthy People initiative. The walks explore natural areas with RPD guides providing a short interpretive program designed specifically for each location.
McLaren Parkwalks take place on the third Saturday of the month starting at 10:00AM meeting up at University & Mansell. They are free and require no pre-registration. This healthy outdoor activity offers a chance to socialize with new friends, feel fit, and find new inspiration in our city's native plants and wildlife.
Bring your water and sunscreen. The staff will have first aid equipment and are CPR certified.  Check local weather forecasts – Trail Walks will be canceled due to unsafe conditions and/or rain. For more information emaillisa.mchenry@sfgov.org.
——————————————————————————
Balboa Park Off-Lease Dog Play Area Opens Thursday, March 22nd5:30-7:30 PM
Construction is set to begin on the Balboa Park's Off-Leash Dog Play Area. After a thorough community process, and approval by the Recreation & Park Commission the Balboa Off-Leash Dog Play Area will offer an area for neighbors to recreate with their furry friends. The opening of this Off-Leash Dog Play area is scheduled for March 22nd from 530-7:30PM.
This new area will be located behind the Balboa Pool and will include signage, new park benches and a portion of bollard-and-chain fencing.
——————————————————————————ArtSpan Annual Auction – Saturday, March 24th 6:30-9PM – SOMArts
Our new Excelsior neighbor, ArtSpan, is holding their Annual Auction Saturday, March 24th at SOMArts.
We are excited that ArtSpan is renovating the Excelsior's Alemany Emergency Hospital historic building, home to the beautiful WPA mural by artist Bernard Zakheim to create the ArtSpan Onondaga Art Center. ArtSpan has had its doors open to artists and the art-loving community for over 43 years, and yet we have never had a home to call its own.
For most of its four-decade history, ArtSpan has operated out of a very modest 2nd-floor offices in the SOMArts complex. With the move to the Onondaga building ArtSpan will now have space for studios for artists, a gallery, an event space, or a classroom to offer to the community. And to make this happen some of the proceeds will help support this new home for the organization.
ArtSpan Auction doors open: VIP begins at 5:30p, general admission begins at 6:30p.
Support our new art center that further signals the Excelsior is home to artists and creatives.
For those of you unable to attend to auction, please come to the Auction Preview and Panel Discussion on Thursday, March 22, at 6:00pm. ArtSpan Board Vice-Chair, Matt McKinley, will moderate a lineup of local art leaders, including the San Jose Director of Culture, the Director of Creative Sonoma, and the Director of the Kala Institute under the title: Hyperlocal Art & Community: Collecting Art in the Bay Area – Supporting Local Artists for a Global Impact.