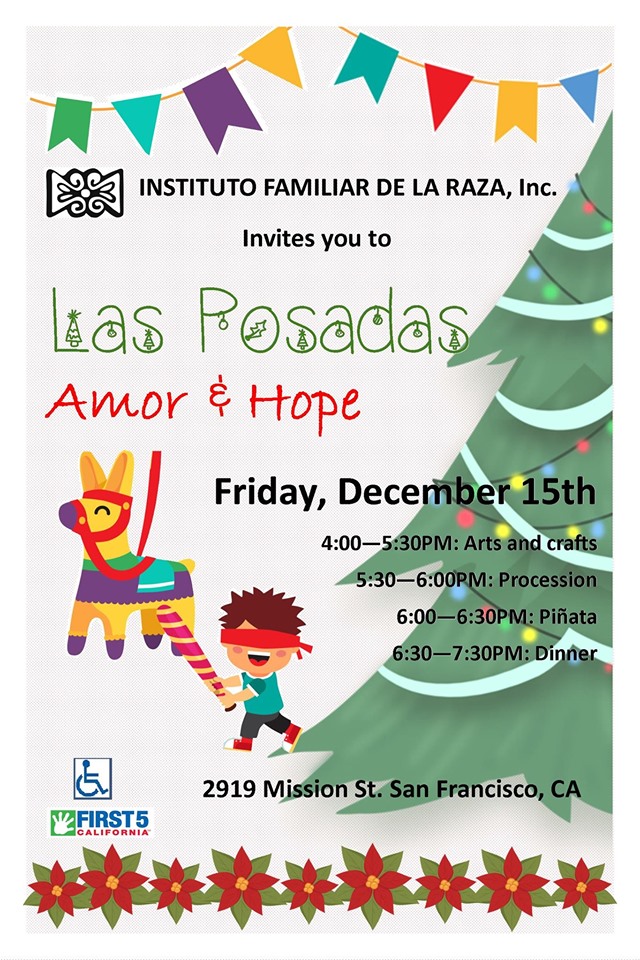 Instituto Familiar de la Raza is in the process of planning their grand event Las Posadas, which will be held Friday December 15th from 4pm-7:30pm and they are in need of a lot of help. If you are interested in helping, please contact The Center!
Las Posadas are Christmas celebrations in which the route taken by Mary and Joseph in their search for a place to stay for the birth of Jesus is recreated. Originally, Las Posadas were used by Spaniards as a tool to Christianize the conquered pueblos. Throughout the centuries, elements of the new Latin American realities from the region, the mestizos, and the indigenous were fused little by little in this colorful celebration.
Rancherias, small pueblos, neighbors, or families walk in procession singing songs and carrying the musical instruments, asking for a posada. At two of the locations where they go, they are denied but it is at the third location where the doors are merrily opened for them. Thereafter, follows a celebration filled with music, the breaking of piñatas, eating, and dancing as a community.
Instituto Familiar de la Raza has opened our doors to many peregrinos and has contributed to the construction of a stronger and healthier community for over 30 years. During the holiday season, Instituto proudly opens our doors to be a part of this tradition.
Everyone is welcome to attend as there will be activities for the kids, a procession, singing, piñatas for the littler ones, and presents! The celebration begins at 4:00 p.m. at Instituto Familiar de la Raza with the procession beginning at 5:30 pm.