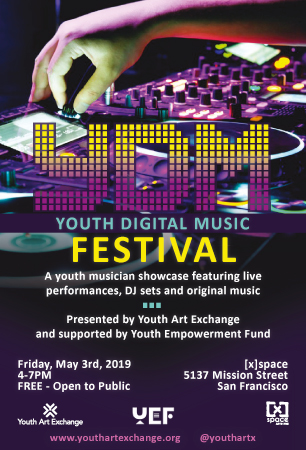 [x]space arts hub, 5137 Mission Street, San Francisco, CA 94112
Join us at [x]space for our Youth Digital Music Festival! This showcase of young musicians includes live performances, DJ sets, original music, food, and a conversation with music industry professionals. 
RSVP on Eventbrite, share on Facebook
Youth Art Exchange brings together young musicians from across the San Francisco Bay Area for the second annual YDM: Youth Digital Music Festival at [x]space arts hub.
YDM is a showcase featuring live performances, DJ sets, original music from Bay Area youth musicians, and a raffle for an Ableton Live Standard license. Built to be inclusive, YDM stands alone as a youth-led music festival now in its second year. It is a unique opportunity for young musicians to showcase work in front of a supportive audience of peers and music professionals. Youth from multiple organizations in the Bay Area to network and collaborate as they transition into possible careers in multimedia and the arts.
Performers include The DJ Project, Today's Future Sound, Xanubis, Last Minute Entertainment, and Youth Art Exchange music production students. Bay Area luminaries speaking at YDM include DJ/Producer Ray Reck and KQED Arts editor Nastia Voynovskaya.