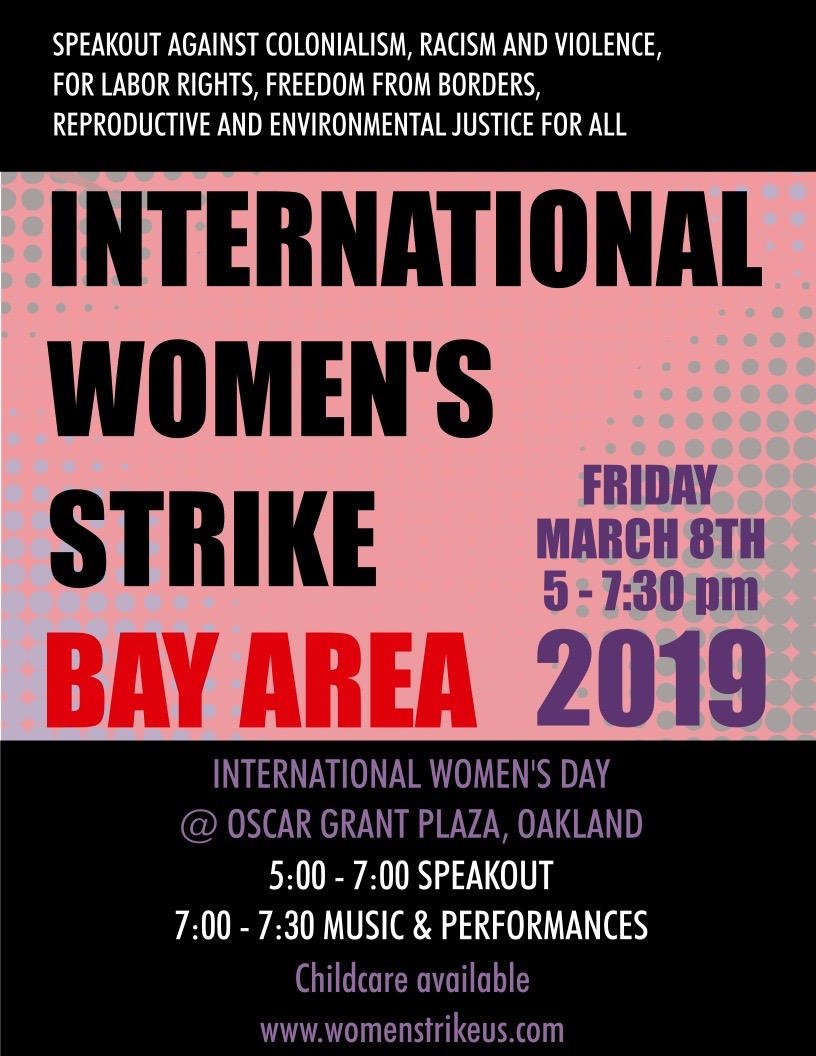 From International Women's Strike U.S.:
It is in the spirt of a renewed radicalism, solidarity and internationalism, that the International Women's Strike U.S. calls for action on March 8.  IWS US continues to be a national organizing center by and for women who have been marginalized and silenced by decades of neoliberalism directed towards the 99% of women: to wage-earning and domestic laborers, women of color, Native women, disabled women, immigrant women, Muslim women, Jewish women, lesbian, queer and trans women. During 2018 we have seen extraordinary actions, including general strikes, organized and led by women and involving other working-class sectors in countries like Argentina, Spain, and Ireland to demand the end of violence against women, attacks on abortion rights, the end of temporary, short term, and contracted-out work, and many other things. The mass mobilization of women from popular and working class sectors is on the rise, and a new class struggle feminism is emerging. We see our efforts as part of a new international feminist movement that builds a bridge between women's resistance and labor resistance. We are against Trump—- and his misogynist, white nationalist policies—-but also against the conditions that produced Trump, namely the decades of growth of economic inequality, the criminalization of Black and Latino youth, police violence, sexual violence, and imperial wars abroad. We aim to build relationships of solidarity between diverse organizations of women, and all those who seek to build a global feminist, working class movement.
We demand an end to poverty and economic instability, both of which disproportionately affect women. We demand an end to wage inequality, to the separation of migrant families and deportations, to the new "Trans Ban" of the Trump administration, to the increased militarism of our society, to the pervasive gender violence which was made ever more visible in the nomination of Kavanaugh to the Supreme Court. On March 8th 2019, we need to take it to the streets, and organize strike actions in our workplaces to build a movement that would reverse the assault on reproductive rights, stop the devaluing and overexploitation of caregiving and reproductive labor, end the mass incarceration of Black and Brown youth, and that would dismantle the emboldened white nationalist or "alt-right" groups.
Finally, March 8th 2019, will once again launch a year of international mass mobilization and strikes of women all over the world. In the United States, we want to be in solidarity with the strike language of our sisters abroad, for we are very much aware of the nefarious role played by the U.S. government in reinforcing the exploitation and oppression of women and working class people all over the country. To the extent possible, we seek to revitalize the strike tactic in our own country, recognizing that 2018 was a year of formidable strike actions, organized from below, and led by women. From the teachers in West Virginia and Arizona to the hotel workers in the Marriott and Hilton chains, successful strikes of women have shaken our labor movement and delivered the goods. At the same time, we recognize that rallies, picket lines, teach-ins, and forums will be first steps to reclaiming March 8 as day for working women in many areas of the country. 
What You Can Do:
    •       Call a local meeting in your town to start discussing this call and the national platform of IWS to build for March 8th.
    •       Reach out to the local chapters of teachers and service workers unions, BLM and Global Women Strike Chapters, and activists involved in building solidarity for the Migrant Caravana.
    •       Discuss how you can participate in the Women's March in your town or city, to do outreach and meet people who are interested in the IWS platform and in restoring March 8th as a militant day of labor action and strike to fight for our needs.
    •       Send any updates of your local organizing plans and social media posts with the national network so we can update the website and social media @ internationalwomenstrikeus@gmail.com