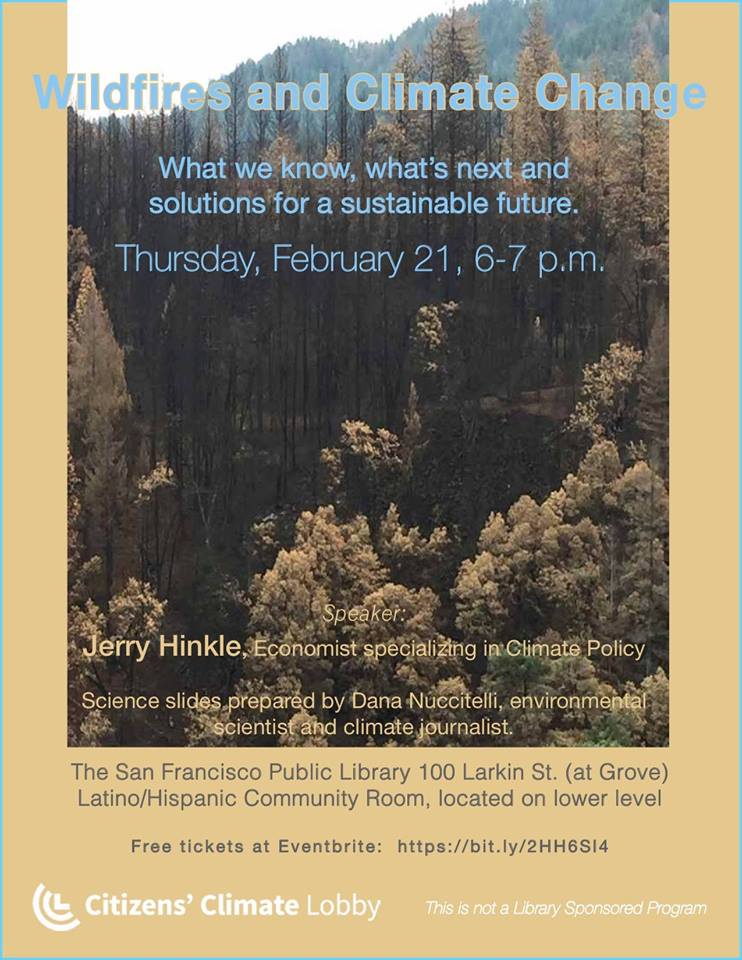 This free, public presentation delves into the scientific links between climate change and wildfires, and offers solutions to reduce the devastation and frequency of these events. The presenter and specialist in Economics and Climate Policy, Jerry Hinkle, joined forces with Dana Nuticelli, environmental scientist and climate journalist, to prepare this vital look into the peer-reviewed science and economics that shows the link between climate change and increased wildfires, and most importantly, what we can do about it.
Join us to hear Jerry Hinkle discuss the science behind the problem and the economic policies of these proposed solutions. One of the potential solutions supported by our presenter is the Energy Innovation and Carbon Dividend Act (H.R. 763), which was re-introduced into the House of Representatives by a bipartisan team of congresspeople on January 24, 2019.
Stay after the presentation for Q&A and discussion!
This is a public presentation sponsored by Citizens Climate Education (CCE), a non-profit organization.
Speaker: Jerry Hinkle, Economics and Climate Policy
Scientific slides by Dana Nuccitelli, an environmental scientist and climate journalist with The Guardian, Skeptical Science, and Yale Climate Connections since 2010.
The event will be held at:
The San Francisco Public Library
100 Larkin St., (at Grove).
Latino/Hispanic Community Room, located on the lower level
(This is not a Library Sponsored Program)
Please use the registration link to reserve your free ticket. Seating is limited to 100 attendees.