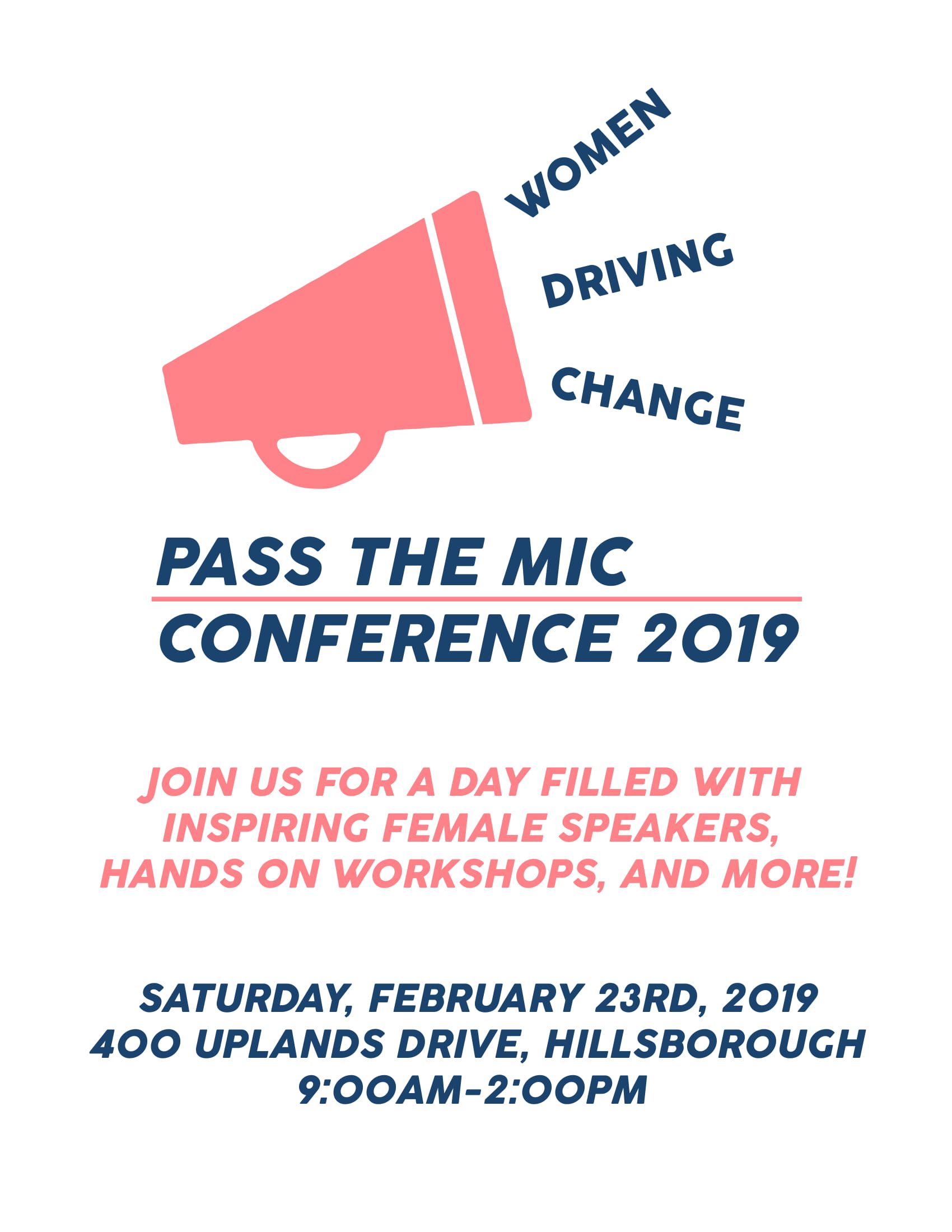 Women Driving Change, a student-led organization from Crystal Springs Uplands School dedicated to raising awareness of and promoting activism around intersectional feminism, would like to share a "Save the Date" for their upcoming conference!
On Saturday, February 23rd, WDC will present "Pass the Mic" – a conference that will be packed full of inspiring speakers, interesting panels, and engaging workshops.
1st Annual Women Driving Change Conference: Passing the Mic
This year, the Women Driving Change club will be hosting a conference open to people
of all genders to discuss intersectional feminism. Women Driving Change aims to empower all women through debunking stereotypes and stigma, creating a safe place for women of all races, ethnicities, gender identities, sexual orientations, and backgrounds, raising awareness surrounding gender inequality, and teaching students how to be advocates in their communities and in society through starting discussions about various challenges women face (the effects, the steps that have been made and the steps that need to be made). In the past year, we have done so by leading weekly meetings, panels, and a Diversity day workshop.
Our conference is centered around the idea of "Passing the Microphone". For decades of
our society's history, men have disproportionately shaped policy and our social climate. As a result, they have also had the say in how we go about fomenting gender equality, or if we even do so. Passing the microphone means amplifying the female voice, and allowing women who are leaders in their fields to tell their stories and decide how we go about driving change in the modern era.
This conference is an opportunity for specifically young women, and all people in our
school community and our community at large to learn about intersectional feminism and hear from female leaders about the obstacles they have faced as women in their respective fields, how they have overcome them, and how they are paving the way for the next generation of female leaders. It is also to encourage discourse on specific sectors of gender equality, including women in the workforce, sexual harassment, and intersectionality.
We hope you will be able to join us on February 23, 2019 at Crystal Springs Uplands
School at the high school campus at 400 Uplands Drive, Hillsborough CA 94010. You can
RSVP for this event at this link: 
https://goo.gl/forms/BXc2l0n5OETvziRm2