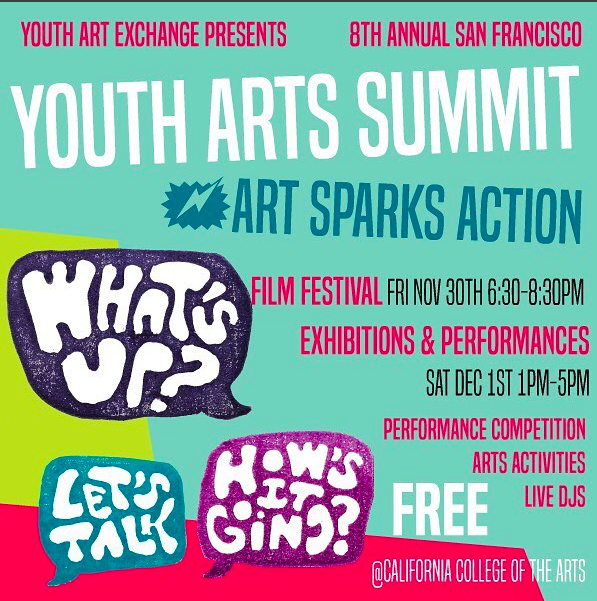 Youth Art Exchanxe presents Art Sparks Action : The 8th Annual San Francisco Youth Arts Summit, a celebration of young artists and their vibrant contributions to the creative and cultural fabric of San Francisco.
If you would like to volunteer, sign up here
The San Francisco Youth Arts Summit, a project facilitated by Youth Art Exchange, is an annual gathering of young artists and arts educators, and the only event of its kind in the Bay Area. At the Summit, young artists lead and participate in workshops, interactive installations, exhibits, and performances. The Summit is a two day event that kicks of with a youth film festival and culminates with a performing arts competition open to all high school youth. In bringing together young artists from across the Bay Area, the Youth Arts Summit represents the next generation's most innovative artists, film makers, architects, musicians, performers, and writers.
Youth and representatives from organizations across the bay come together to plan the Summit, building leadership and youth voice within the arts education and arts advocacy landscape, and forging deeper connections between young people and the organizations that they represent. We want to connect self identified youth artists to various arts colleges and arts programs and are inviting higher education institutions to participate to provide information and portfolio advice. This spirit of collaboration carries throughout the Summit and beyond to create a growing network of young artists, youth arts organizations, and higher education.
This year's theme is "Art Sparks Action." and it will be at California College of the Arts on Friday & Saturday, November 30 & December 1, 2018.