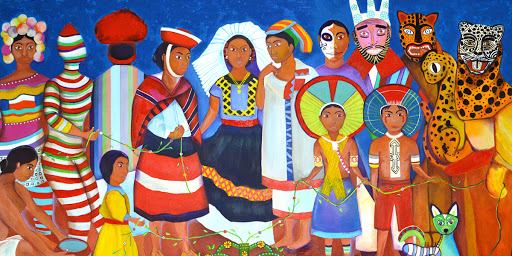 FREE Special Reception on Dia de Los Muertos. Arturo Martinez paints in the traditional Mestizo style, originating in Mexico and Central America.
Join us for Music, Traditional Live Dancing, Calavera Face Painting and MORE Nov. 2nd at the International Art Museum of America – 1023 Market St. San Francisco, CA from 5PM-8PM.
From 5 to 8pm, we will also have Arturo Martinez's artist reception. Arturo's mestizo paintings are wonderful and really worth seeing in person! His reception will include food and beverages, and music and dancers from the south of Mexico.
We will be celebrating Dia de Los Muertos by having sugar skulls for people to decorate, face painting for both kids and adults, and a beautiful altar celebrating female artists throughout history, made by Adriana Cuevas, a Mexican photographer.