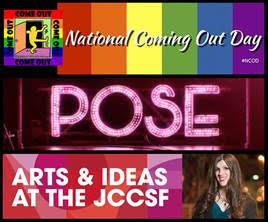 From the JCCSF:
We have two programs for teens, The Q, our queer Jewish youth group open to folx of all identities and backgrounds, and our Teen Arts Immersion Program (TAIP). TAIP is a program of theatrical experiences where we not only make Bay Area's artistic experiences accessible, we provide teens an immersive experience into the themes presented and give an exclusive, behind-the-scenes look at them. I oversee both programs and with the help of the teens who attend our events, execute and plan our programming. All of our teen program is welcome to any and all teens.
In the next two weeks, we have events occurring for both the The Q and TAIP. These programs are both free and provide dinner to those who attend.
Our first Q event is our National Coming Out Day Program on October 11th. Teens who attend will receive a free ticket to hear Danica Roem be interviewed by Transgender Law Center's Raquel Willis as well have a special meet & Greet with both Roem and Willis. Danica Roem is the first openly transgender person elected, seated in a U.S. statehouse in 2017. Before the program, we will be watching an episode of POSE, a revolutionary television show on FX that features the largest cast of transgender actors in series regular roles.
As well, we have an exciting program through TAIP on the 18th where Jewish teens in the Bay Area will have an opportunity to amplify their voices with the help of our partner BimBam. It's called "My identity. My voice. My Jewish Experience." We'll be having a discussion on being Jewish today as a teen and how it intersects and interacts with other parts of their lives. Those who attend, will get a free ticket to hear Jill Soloway speak at the JCCSF.