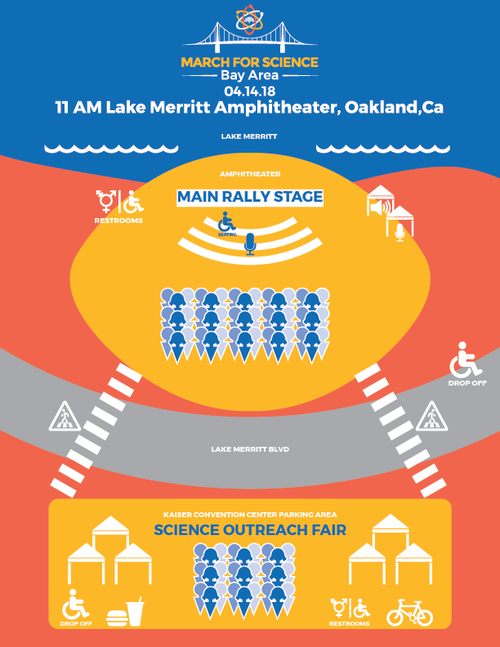 Rally, Speaker Series, Science Outreach Fair & Scenic March
Lake Merritt Amphitheater and Henry Kaiser Auditorium
11am to 3pm – April 14, 2018
March for Science & VOTE for Science are back, stronger than ever! Join us as the Bay Area comes together to celebrate science and send a strong message to Washington and Sacramento that we CARE and we VOTE! This kid-friendly event will feature noted speakers, great music, a wide array of partner booths and hands-on demonstrations, food trucks, great weather, and a kids area!
We are non-partisan, dedicated to the concept that facts DO matter! Join us to show your support for
Strong uninterrupted funding for basic research
Engaging and challenging STEAM education from primary grades upward
Public access to scientific data
Data-driven policy decisions
Increased diversity in science leadership, funding, and mentoring
We believe these are crucial to the health and safety of all life on our planet.
For more information or to get involved visit us at www.marchforsciencesf.com
Able to volunteer to help produce this event? We'd love to have you – click here!
The March for Science Bay Area would like everyone to have a positive and safe experience. We remind all participants to be respectful of others. Violence or threatening speech is never appropriate. Weapons, alcoholic beverages, or drugs are not welcome at this event. Please be respectful of all public and private property and help us keep the park and adjacent areas clean.