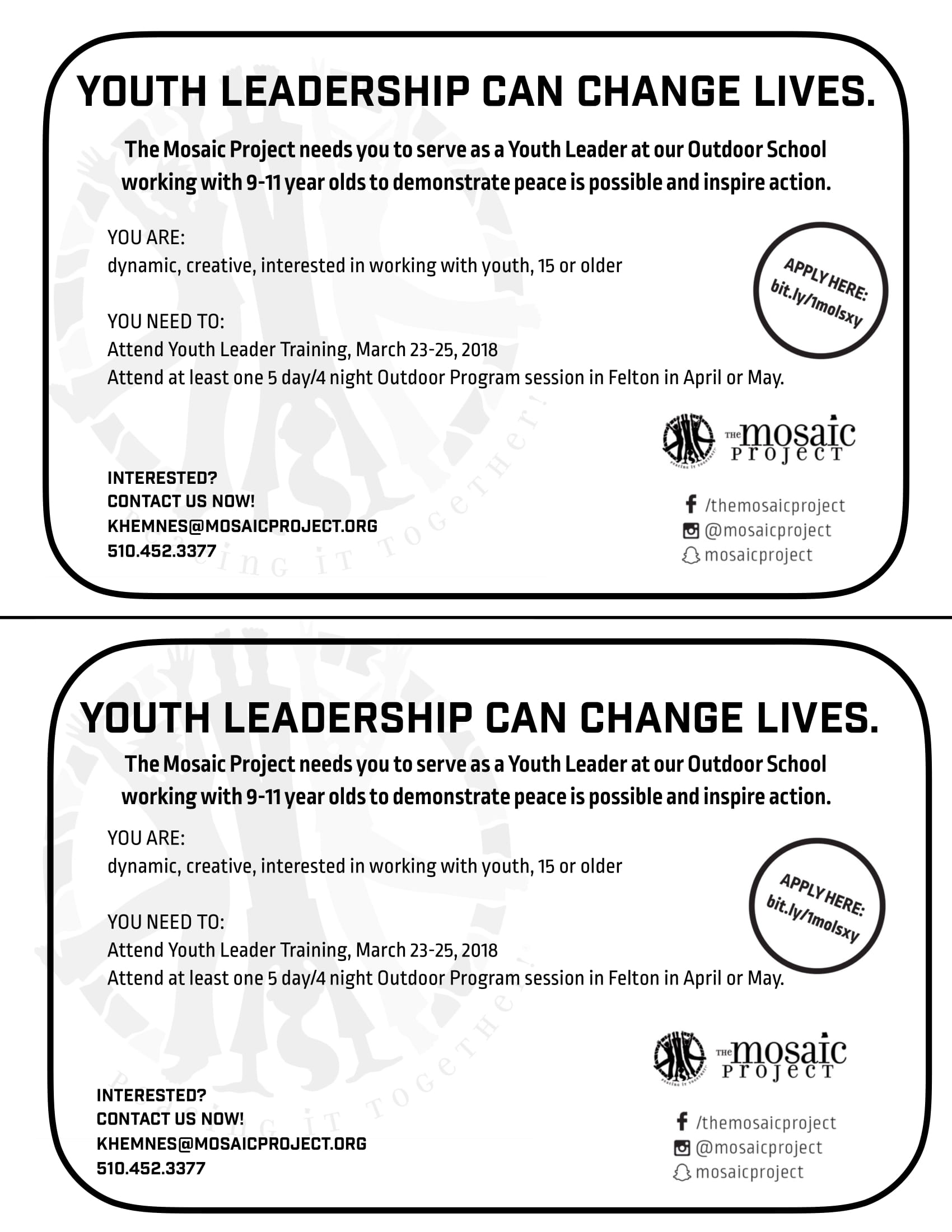 The Youth Leadership Project provides extensive training in diversity, empathy, and conflict-resolution for young adults who form a vibrant cross-cultural community and serve as mentors for the 4th and 5th graders at Mosaic's Outdoor Project. Youth Leaders are required to attend a weekend training retreat and volunteer for at least one session during the spring and fall at the Outdoor Project.
In addition to the Outdoor Project, our high-school and college-aged participants engage in leadership and volunteer opportunities at Mosaic events, workshops, fundraisers, and service learning projects.
Next Youth Leader training weekend is March 23-25, 2018 (spring season).
Youth Leaders will also participate as cabin leaders in at least one 4-night/5-day session of our residential program near Santa Cruz between April 16-May 25, 2018 for the spring season and/or September 17-October 26, 2018 for fall season.
Responsibilities:
Facilitate games/activities that encourage students to appreciate and respect themselves and others.
Provide a nurturing, safe, and fun learning environment for our students.
Share your unique experiences, talents, and skills with our community.
Learn leadership skills and put them to use with younger students.
Keep up with academic studies during daily study hall while at the Outdoor Project.
Desired background:
At least 15 years old and a sophomore in high school.
Interest in learning leadership skills.
Interest/experience in working with children, especially ages 9-11.
Interest/experience in human-relations/diversity/cross-cultural education.
Interest/experience in music, theater, and arts & crafts.
Certifications in CPR, first aid, and lifeguarding are a plus.
Stamina to work long, but rewarding hours.
Ability and desire to live and work in a tight-knit, diverse community.
Passion for youth development, social justice, and creating peace!