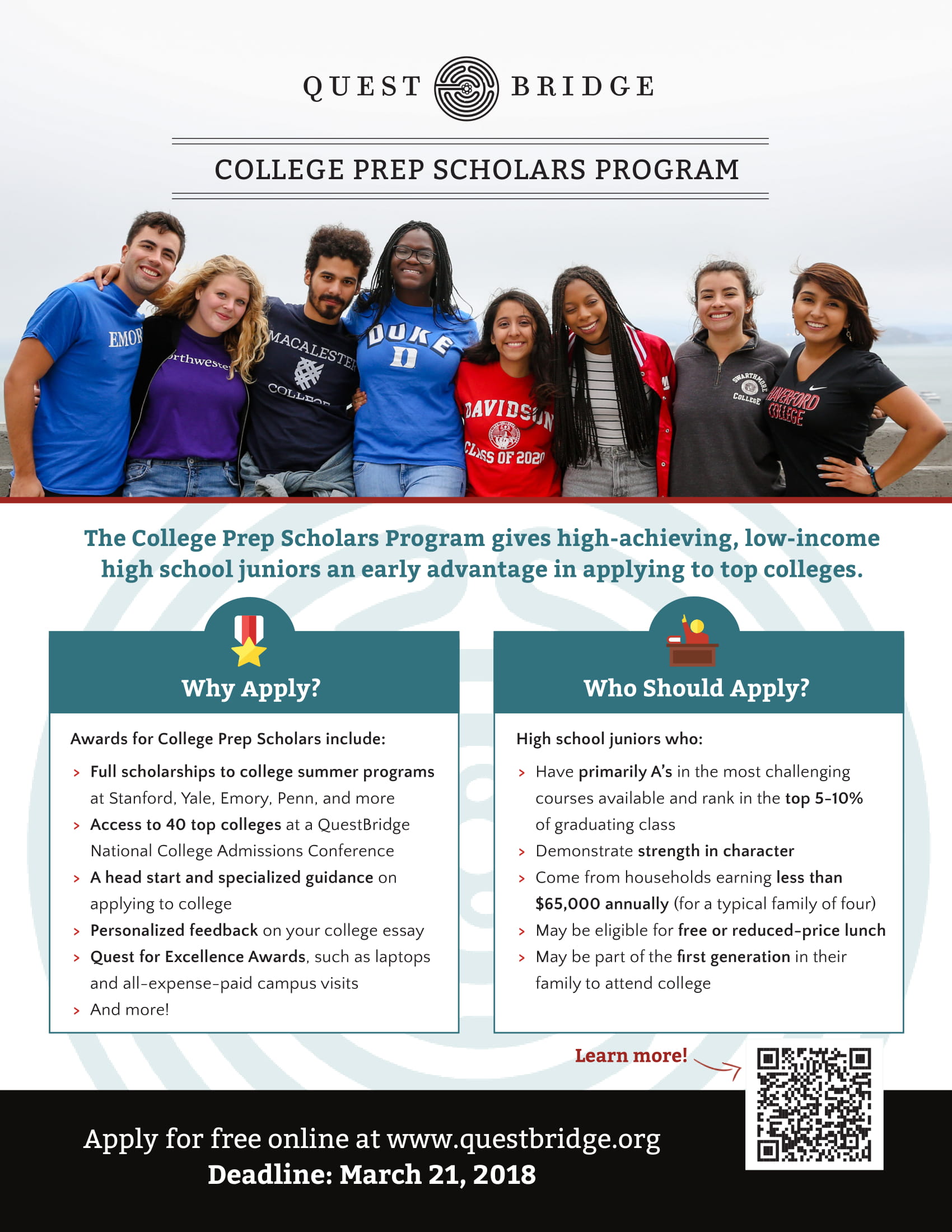 The QuestBridge College Prep Scholars Program gives outstanding low-income high school juniors an early advantage in college admissions.
College Prep Scholars are uniquely prepared to gain admission and full scholarships to top-tier colleges through QuestBridge. The majority are also selected as Finalists for the National College Match. Being selected as a College Prep Scholar is a notable distinction that celebrates your achievements and gives you an early start in applying to college.
All College Prep Scholars will receive:
Exclusive access to 40 of the nation's best colleges at a QuestBridge National College Admissions Conference: Learn from and interact with admissions officers from leading colleges and universities at this full-day event
A head start on applying to college: Fill out a full college application as a high school junior and receive valuable support and guidance to make yours further stand out
The distinction of being a College Prep Scholar: Our college partners are among the nation's best institutions, and they identify College Prep Scholars as outstanding potential candidates to highly selective colleges
College Prep Scholars could also receive:
Application Requirements
A free, online College Prep Scholars Program application, including an essay, short answer questions, and information on your academic accomplishments, extracurricular activities, and financial background.*
A letter of recommendation from a teacher in a core academic subject.
A high school transcript.
Any standardized test score reports to-date. We accept PSAT, SAT, ACT Aspire, ACT, Subject Tests, or AP test scores.
*Access to 2017 tax returns, W-2(s), or other financial documents is highly recommended to complete the application accurately.
Eligibility
Any high school junior, regardless of citizenship, currently attending high school in the U.S. is eligible for the College Prep Scholars Program. Additionally, U.S. Citizens and Permanent Residents living abroad are eligible for the program. International students living outside the U.S. are not eligible.
Applicants must be high school juniors who are planning to apply to college during the fall of their senior year.