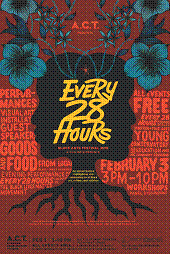 Please check out the Every 28 Hours Black Arts Festival happening this Saturday, February 3rd at A.C.T.'s Strand Theater. This year's event, "A Healing Experience," will center on resilience and joy in the Black struggle against police brutality and Black oppression.
This FREE event will include an afternoon of workshops with Destiny Arts Center, Konda Mason of Spirit Rock and Impact Hub, and a panel discussion with local Black community organizers and business owners. The evening will include musical performances by Jessica Lá Rel and Nyree Young, as well as a selection from the Every 28 Hours plays– a series one minute plays about the Black Lives Matter movement, directed by Elizabeth Carter.
The entire festival is FREE, but 
please RSVP 
for the workshops and/or the performances as space is limited!!!  All people are welcome to attend including young folks/students!