I am happy to welcome the 2016 cohort of BAY AREA BlendEd Consortium's course BAY AREA CINEMA! Below is a course description for our experimental, experiential and adventurous BlendEd course and a few links to learn more. We will be posting our visual arts and filmmaking projects, publishing  film and art reviews and reflections on the local cinema and art world here! Check back soon!
~Lydia Greer, Bay Area Cinema Mentor 

 http://www.blendedconsortium.org/courses/bay-area-cinema/
Course Description: Film, animation and alternative film and video has been a stalwart of Bay Area culture from Muybridge to Silent Film and from Pixar to the Prelinger Archive. In this course we will explore the history of the moving image and it's cultural impact in the San Francisco Bay Area as well as create our own imaginative responses to the ideas and concepts in the course. Students will get a chance to study films, technologies, philosophies and ideas related to the manipulation of time as well as create their own art, videos and visual journal entries. Topics will include a wide variety of cinematic genres and motion picture technologies. Students will learn interdisciplinary skills related to their own independent filmmaking in tandem with film and cultural studies. Students will be expected to make connections with larger social, political and cultural forces and be interested in independently creating artworks, visual journal entries and film and animation. During our face-to-face sessions we may be meeting filmmakers, exploring museums, cinemas, archives, film festivals and places of cinematic industry in the prolific bay area arts culture. Tea and discussion  and online reflection usually follow. 
About the consortium: http://www.blendedconsortium.org/
Bay Area BlendEd Consortium:  Blending the best of online learning, remarkable teacher-student connections, and Bay Area resources.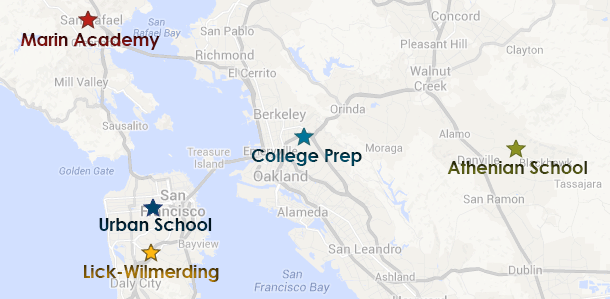 The Bay Area BlendEd Consortium was founded by The Athenian School, The College Preparatory School, Lick-Wilmerding High School, Marin Academy, and The Urban School in order to jointly offer a set of blended classes combining face-to-face and online instruction.
As the ways we teach and learn continue to be influenced by the use of digital technology, The BlendEd Consortium seeks to combine demonstrated best practices for online learning with our schools' proven strengths in direct classroom instruction and experiential learning. By creating a blended model, where students access the curriculum and teachers online as well as through regular face-to-face meetings, we help our students prepare for the changing methods of instruction and communication they will see in college and in the workforce while preserving the core relational culture that lies at the heart of our schools' educational missions.